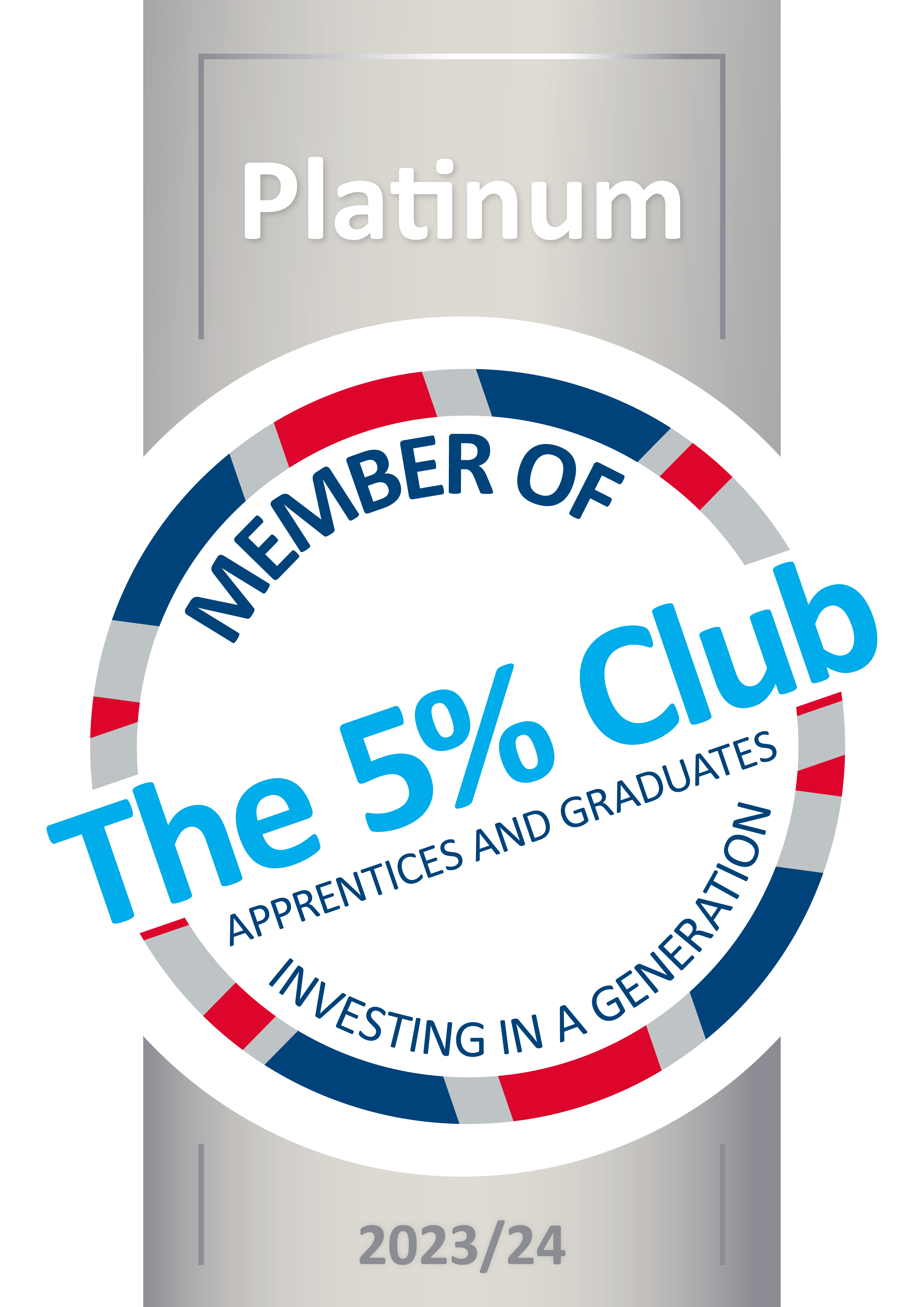 Platinum membership of The 5% Club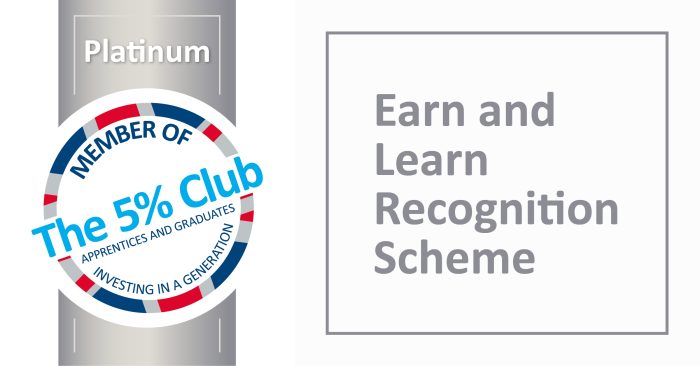 Whitehead Building Services is delighted to announce that we have been awarded Platinum accredited membership via The 5% Club's 2023-24 Employer Audit Scheme. This award recognises our significant contribution to the continued development of all our Employees through "earn & learn" schemes such as Apprenticeships, Graduate Schemes and Sponsored Students Course Placements.
Launched to mark The 5% Club's 10th Anniversary this year, The Club introduced the new "top" tier of Platinum Membership that can be achieved through the Employer Audit Scheme. Platinum members are participants who have achieved Gold Membership in three consecutive years, and who in their third year have 10% or more staff members "earning and learning".
From an impressive list of 180 audit participants, we were one of only 30 Employers who met the Platinum Standard, meaning Whitehead Building Services is in the top 3 percent of members of The 5% Club achieving this prestigious top level.
We are proud of our investment in our staff members, which is why we joined The 5% Club. The 5% Club is a dynamic movement of Employers all of whom are inspired to take positive action for increased, inclusive, and accessible workplace training for all. With a membership which now exceeds 900 companies, The 5% Club represents over 1.6 million employees, 101,000 of whom are in "earn and learn" schemes. The Employer Audit is a unique scheme which validates the employers' activities, explores their future plans and commitments, as well as examining their approaches to quality, social mobility, diversity and inclusion.
Rhys Morton, Managing Director of Whitehead Building Services, said, "We are delighted to have been recognised in our commitment to training.  Apprentices are the basis of the growth and success of our business.  Several of our former apprentices now hold senior positions within our business, maintaining our company culture and helping us to deliver top quality projects and outstanding customer experiences."
Mark Cameron OBE, Chief Executive at The 5% Club said, "Our Employer Audit scheme recognises the efforts of all those Employers who invest in their workforce through a broad range of workplace learning schemes. It is fantastic that in these challenging times so many are able to commit to the Employer Audit and to gain the credit for their efforts, and that the majority are striving to expand their schemes over the coming years. Their efforts and achievements are to be applauded. Even more impressive is the 3 percent who have achieved Platinum level membership – they represent the very best of our movement and of employers offering 'earn and learn' opportunities. "
Gill Cronin, Director of Operations at The 5% Club added: "Having seen The Club grow to more than 900 members, I am always impressed at the commitment, drive and energy our members channel into offering "earn and learn" skills opportunities. To now see 20 percent of these members gain Bronze, Silver, Gold and Platinum accredited membership of The Club is inspiring and demonstrates how these companies are all contributing to the future of skills in our economy."